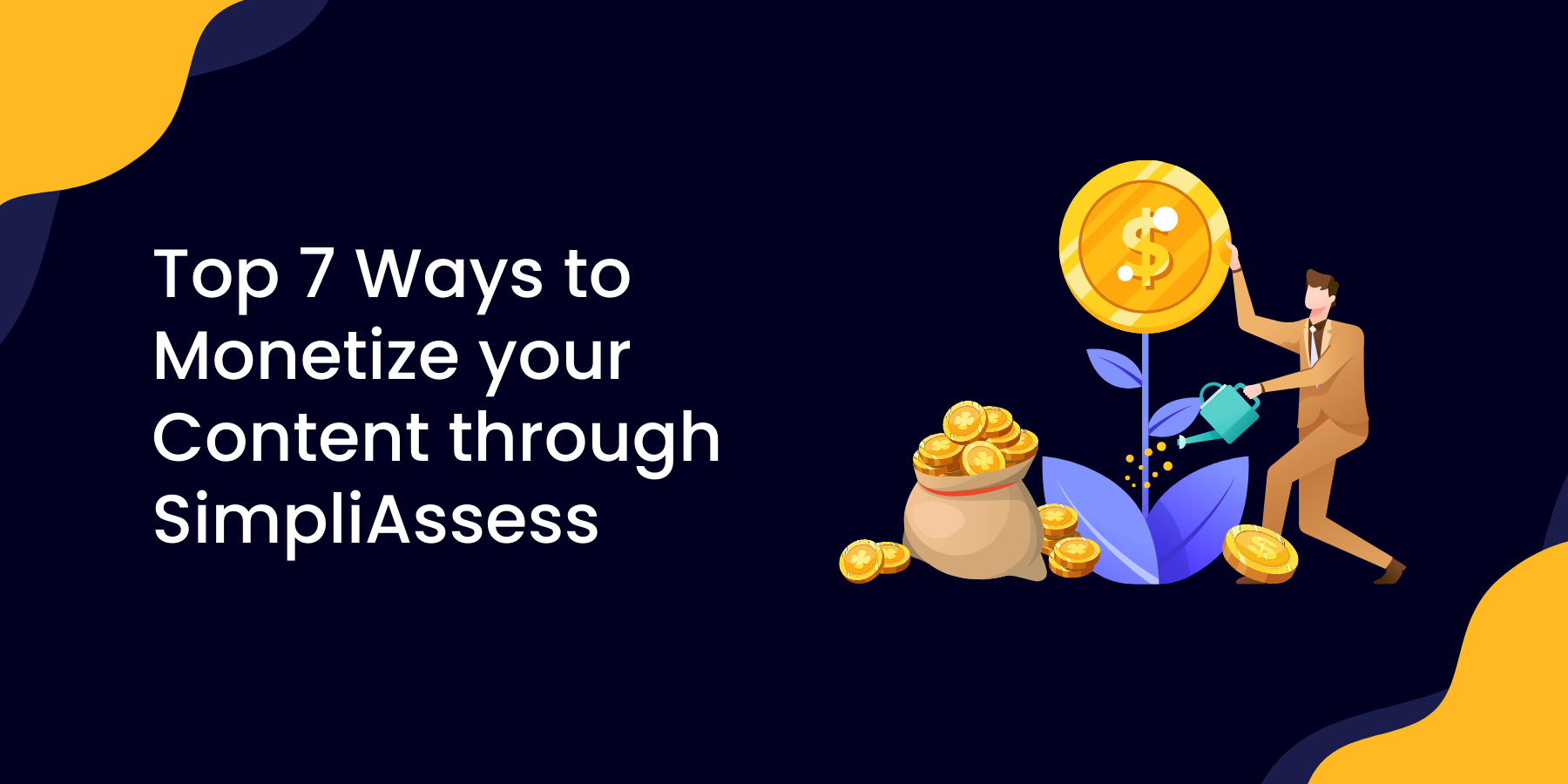 Top 7 Ways to Monetize your Content through SimpliAssess
Are you a content creator or publisher looking to monetize your work? If so, then this blog post is for you. In this post, we'll take a look at the top seven ways to use SimpliAssess to monetize your test content.
Here are the top seven ways that you can use SimpliAssess to monetize your content:
Create Paid Assessments
One of the easiest and most effective ways to monetize your content with SimpliAssess is by creating paid assessments. You can use the platform to build exams, quizzes, surveys and other assessment types that users must pay for in order to take. This allows you to make money from each test or survey taken. Plus, if you want to re-use the same assessment for multiple users, SimpliAssess also offers AI driven features like item bank refresher that helps you recreate the same test content with ease.
White-Label Assessment Platform
SimpliAssess also offers a white-label assessment platform that allows you to resell its services. This means you can create custom assessments, purchase our service package and then rebrand it as your own – all while getting paid by your customers. You can also add additional features like proctoring, virtual classrooms and more to offer a comprehensive solution to your customers.
Membership Access for Paid Content
If you are creating paid content, SimpliAssess also offers an option to provide members-only access. This feature allows you to provide exclusive access to test content through member login and authentication. You can easily monetize your premium content this way, by allowing only members to access the tests you've created.
Unlock Content with Paid Tests
Another great feature of SimpliAssess is that it allows you to unlock content with paid tests. You can create an assessment and then add a 'Pay to View' option after completion – which will allow users to pay for the content, thus allowing you to monetize it. This feature is great for digital and online creators who want to protect their content from unauthorized access.
Sell Digital Certificates
SimpliAssess also offers an option to sell digital certificates as a way of monetizing your content. You can design and customize the certificates, add a payment gateway to your assessment and then sell them for whatever price you choose. These digital certificates are great for creating an additional income stream from your work as they provide tangible proof of a user's completion or success in taking the test.
Offer Customized Training Solutions
SimpliAssess also allows you to create customized training solutions for businesses and organizations. You can provide clients with tailored assessments that are designed to help them identify their employees' skills, knowledge and expertise. This will not only allow you to monetize your content but also ensure that the training provided is comprehensive and meets the specific needs of each client.
Promote your Assessment Platform
In addition to creating and selling assessments and courses, you can also use SimpliAssess to promote your platform. By doing this, you will be able to reach more potential customers and build an audience of loyal users. Plus, the platform allows you to feature all of your content in one easy-to-use dashboard so that users can find what they need quickly and easily.
Monetizing content with SimpliAssess is easy, secure and straightforward. Whether you're looking to create paid assessments, offer members-only access or sell digital certificates, SimpliAssess provides all the tools that you need to make money from your content. So if you're a digital or online creator, start monetizing your work today with SimpliAssess!